Access to Lefkada and Praxitelis Apartments
Nikiana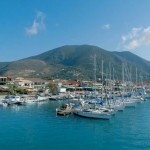 Nikiana is a coastal village, 10km south of Lefkada and between Lygia and Nydri. Its natural beauty makes it a pole of attraction to visitors. Nikiana develop rapidly tourist infrastructures and tend to be a cosmopolitan summer resort. The settlement is built in a privileged location with dense vegetation viewing to the mountains of Aitoloakarnania and the remaining of a medieval castle that used to be the center of the island during those ages
Access to Lefkada
INTERNATIONAL FLIGHTS TO LEFKADA
The closest International Airport is Aktio Preveza Airport (PVK) and is 16kms for Lefkada Town.Charter flights to Lefkada are available from many European countries including UK, Holland, Germany, France Austria, Switzerland and more. From Aktio airport you can either take a bus or taxi or rent a car to Lefkada.
ATHENS TO LEFKADA
CAR
The distance Athens to Lefkada is 385 kilometers. You can reach Lefkada by car, via the bridge that connects Lefkada with the mainland (Etelokarnania).
BUS
Lefakada can also be reached by KTEL buses, there are frequent bus routes to Lefkada from Athens, Thessalonica, Patras, and other major Greek cities. From Athens, bus service is daily and travel time is 5 hours. From Thessalonica, bus service is 2 times the week and travel time is 7 hours.
FLIGHT
There are daily flights from Athens International Airport Eleftherios Venizelos, to Aktio Preveza Airport and the trip lasts 45 minutes.
FERRY
Ferries are available from Italy to Igoumenitsa followed by a two hour drive to Lefkada by either car or bus.
SEAPLANE
You can find full schedule informations here. Directions on how to reach the villa from the airport will be emailed to you. We can also assist with car hire if required.
For Google Earth users
Latitude: 38°45'26.5″N
Longitude: 20°43'11.7″E
Find us also in Lefkada-Rentals.com